Your Secure, Online Health Connection
Acton Medical Associates offers patient access to Follow My Health® (FMH), a secure and convenient patient portal that helps you manage your personal health information online. This free, health management tool allows you to:
Communicate with your doctor.

Get answers to your non-urgent medical questions through your desktop or mobile device anytime, anywhere.
Make appointments and submit forms.
Schedule your next appointment, or view details of your past and upcoming appointments. Expedite appointment check-ins by completing and submitting online forms to your doctor's office.
Access your test results and medical records.View test & lab results and doctor's comments within days of your appointment. Review your personal medical record including clinical summary, conditions, and medications. View personal health information from other health organizations participating in the FMH patient portal.
Request prescription renewals.Send a renewal request for any of your refillable medications.
Request referrals.
Email your primary care provider with your need for a referral and determine the best specialist for your care based on your medical history and symptoms.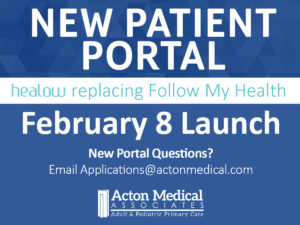 ---
New User?
FollowMyHealth updated their privacy terms on November 14, 2019. Acton Medical is not associated with, nor endorses the new policy allowing FMH's third-party partners to email and advertise to FMH members.
---
FollowMyHealth®Mobile
Download the App
How to Register
Adult Patients
Make more informed decisions about your health. Create an account with FollowMyHealth and join the patients who are taking a more active role in managing their health and wellness.
Simple Step-by-step Registration Instructions
Pediatric and Dependent Patients
If you are a parent or legal guardian, or if you have a dependent who is an Acton Medical patient, you can obtain proxy access for that patient's health information through your FollowMyHealth patient portal account.
Proxy access enables you to keep track of your child's or dependent's appointments, medications, health information, and, in most instances, communicate with their health care provider.
To request proxy access, download the form and follow the instructions for submission.
Once you receive the invitation email please follow the steps for becoming a proxy.
Simple Step-by-step Instructions for becoming a proxy
Additional Support
For a brief demonstration of how to use FollowMyHealth, we invite you to watch a three-minute video. As mentioned in the video, there are some features that may vary from organization to organization.
How to send documents to the practice.