At this time, only Pediatric Well Child appointments or Pediatric Annual Physicals can be requested online. Pediatric patients should call (978) 635-8914 for other healthcare needs. Patients are not required to use online scheduling, so please call our office anytime for any need.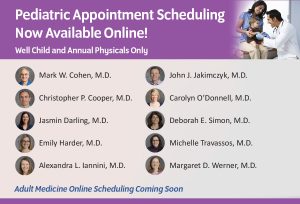 Please contact Portal Support with questions about online scheduling, portalsupport@actonmedical.com. They provide technical support regarding this new feature. Pediatric patients should call our office with any non-technical questions.
More information about online scheduling for all patients will continue to be shared over the next few months.
Thank you for choosing Acton Medical!