Healow Replaces Follow My Health on February 8
Patients with a current FMH account will receive an email by Feb. 8 with further instructions.
Click the image below to learn more.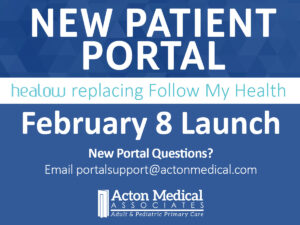 Safe Care Promise
Acton Medical Associates is dedicated to the safety and good health of our patients, team members, and the community.
It's our promise to keep safety at the forefront of everything we do so that all of our patients receive the highest quality care in a clean and comfortable environment. We partner closely with the Massachusetts Department of Public Health to ensure the strictest of safety guidelines are met in all of our locations.