Allergy Clinic
Walk-ins Currently Unavailable – Appointments Must be Scheduled 
Due to COVID-19, we've implemented new processes in our Allergy Clinic to ensure the health and safety of our patients and staff. We continue to dedicate ourselves to providing high quality, convenient care, for all patient needs, including non-coronavirus services.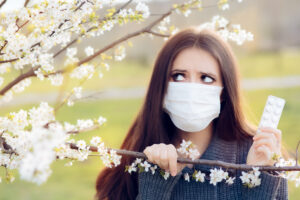 The Allergy Clinic moved back to its original location on the second floor in our Acton office.
All patients must wear a mask. Social distancing signs have been added in the clinic to help patients select where to stand or wait.
Check in at the front desk, then complete a symptom sheet outside of the Allergy office.
The allergy nurse will call a patient's name when ready for their injections.
Allergy Clinic Hours of Operation
Appointments: (978) 635-8907            Clinic Fax: (978) 635-8923
**NO WALK-INS, all patients must have an appointment**
Patients who suffer from environmental allergies, or have a generalized reaction to stinging insects, can be seen by Acton Medical's in-house allergist, Dr. Edwin Knights without a referral.
To determine if testing for allergies is appropriate, or if immunotherapy is the right choice, patients must first meet with their doctor.If immunotherapy has been administered at another medical facility and patients want to transfer to Acton Medical, please call the allergy nurse at (978) 635-8907 to discuss the process.
For children who suffer from environmental or stinging insect allergies, testing is performed off-site and immunotherapy injections are administered at Acton Medical.
We do not perform skin tests for food or medication allergies.
Acton Medical is committed to protecting our staff, patients, and the community. Visitors and staff are required to wear face masks.
As always, extensive sanitization of all surfaces is performed on a frequent basis in all offices.